A descriptive guide to exploring the Top Utah Attractions and Places to Visit with tips about things to do and places to see.
WHAT CAN FASCINATE YOU TO TRAVEL TO UTAH!
Located in North America, Utah is a place where you should visit once because of its unparalleled beauty and conglomerate of archaeological digs, canyons, national parks, outdoor adventure, and many more incredible activities. The place where It is said to have the best snow on Earth with a snow density of 8.5 percent, a perfect balance of fluffiness and wetness.
Blessed with some surprising dramatic landscapes, a vast expanse of desert, rocky trails, this small town will feel like home and the history-studded monuments are just like icing on the cake. Talking about the weather, Utah is the second driest state in the United States and receive 300 sunny days a year. So are you ready for an unforgettable experience and of course we have a list of the places that depend on the season as there are some places which are less accessible when winter starts? So let's dig into the top attractions of Utah which is worth watching. Be excited!
Top Utah Attractions and Places to Visit
Salt Lake City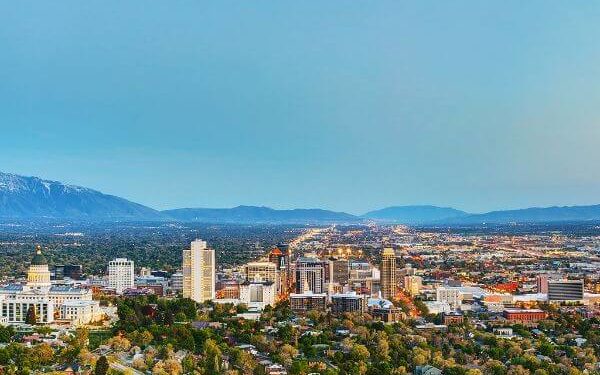 Urban Heart of Utah and the capital city with a diverse culture, Salt Lake is the city that is perfect for skiing and winter activities. Its scenic and snow-capped peaks and mountain valley of 4330 feet above sea level, vibrant and serene beauty of Salt lake, an exciting destination for everybody. A place that has many things to offer from high-end hotels to ski resorts, and renowned restaurants, is worth considering it for your next travel trip to the United States.
Moab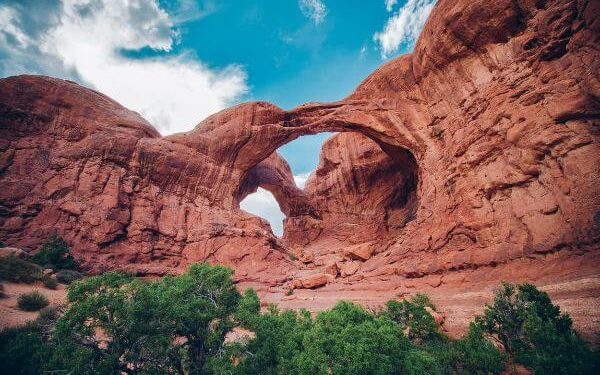 Closest town to arches national park, this place is ideal for outdoor adventures and offers endless opportunities for biking hiking, off-adventure and many more. This small town located in eastern Utah is attracting visitors for its spectacular scenery, mild winders and one of the best mountain biking in the world. The best time to visit here is in spring(March-may) and fall (sept-oct).
Park City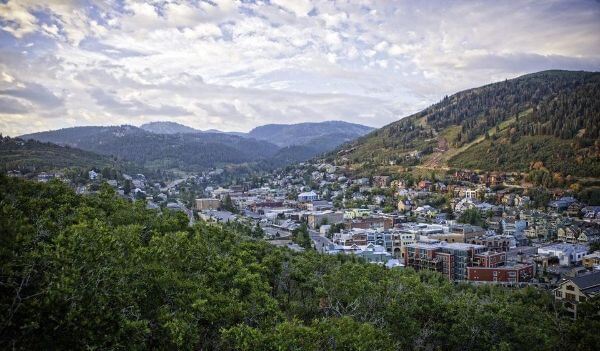 Different from all the cities, this is the ski town where it is said to have the best snow on earth. This city is pretty and snowy which is the most iconic in this city. It is located in the western part of the state, just half an hour's drive from Salt Lake. A famous event called Sundance Film Festival is held here in late January which is world-renowned outdoor sports and historic charm. There are many ski resorts and pubs and bars to enjoy yourself and also year-round activities for kids and adults.
Lake Powell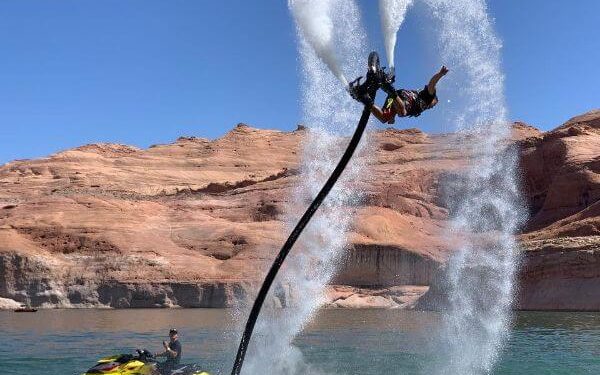 A second-largest manmade reservoir in the United States, Lake Powell is situated on the Colorado River. There are many recreational activities, you can do here like hike, camp, rappel and many more and just enjoy your day by relaxing on the shore. Apart from that, this spot is also a shooting location for many TV series and films. Various natural bridges situated here draw the attention of approx 2 million visitors per year. Also, you can rent a houseboat and enjoy the mesmerizing beauty of this picturesque lake.
Zion National Park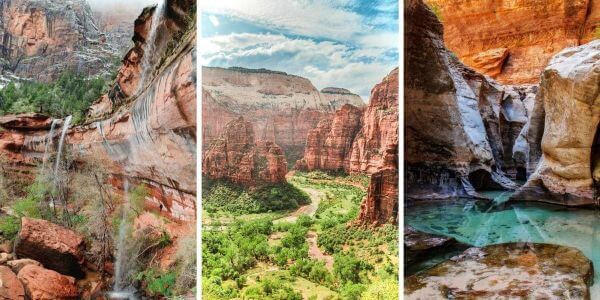 This National park is known for its stunning and mindblowing beauty with its series of high white and immense red sandstone cliffs and incredible rock formations. It the most popular and among the most beautiful National parks in the USA and thus receives over 4 million visitors per year. The epic adventures here and zion's beauty will capture your heart and let you lost in the moment.IT is the fourth most visited park and best place to visit in Utah with family for its abundant and diverse flora and fauna.
Arches National Park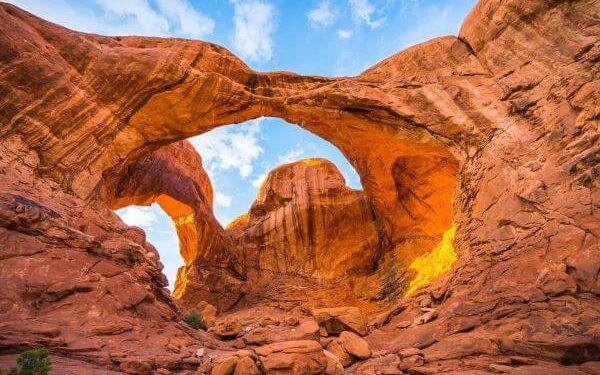 Like the name, this national park is famous for its incredible natural arches and rolling petrifies dunes. There are many walking trails and hikes that lead to the most popular arches and unbelievable rock formations. Located just outside of Moab, this park is highlighted by its some of the extraordinary features such as the environment of contrasting colors, textures and formations. There are many top attractions to see like Delicate Arch, Fiery Furnace, Broken Arch, Park avenue and these highlights are easily accessible and can be seen through the scenic drives. Also, more than 2000 natural stone arches exist here.
Monument Valley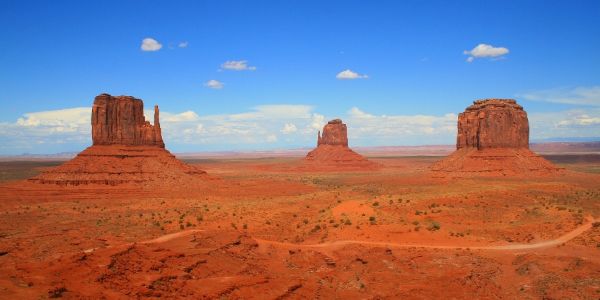 The USA's one of the iconic landscapes, with panoramic vistas, sandstone buttes and an ideal setting of your next adventure. This place needs a closer look and you can book a half-day or a full-day tour to explore the desert environment with towering sandstone rock formations. Locates near the Arizona border, this place is famous for its spectacular red masses just like Uluru in Australia. The major things you can do here are hiking, jeep tours, stargazing in Monument valley and horseback riding.
Bryce Canyon National Park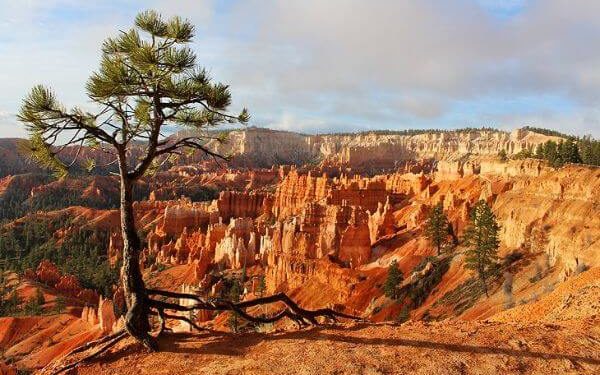 Featuring tremendous biodiversity and showing a spectacular kaleidoscope of varied colored rocks, Bryce Canyon was previously a national monument and later designated as National Park. The unique shapes and sizes of the rock formations are worth watching which is attractive for the people to numerous hiking trails in the park. There is a collection of massive natural amphitheaters, brightly colored tightly packed hoodoos that give a stunning view to the viewers and magical landscape that begs to be explored. The best time to visit here is from April to October.
Capitol Reef National Park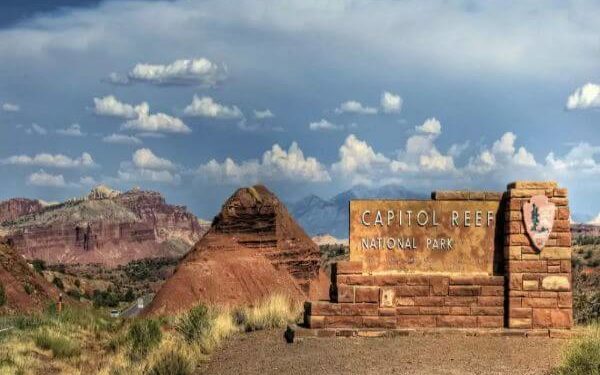 This another national park located in south-central Utah, which is less crowded than others and just 100 miles in length fairly narrow. Known for particular rugged, this park has also scenic views, colorful twisting canyons, buttes, and ridges. Apart from it, the towering cliffs, massive domes, arches are other attractions and interesting highlights here which is also an inspiration for anyone who is interested in photography.
Dead Horse Point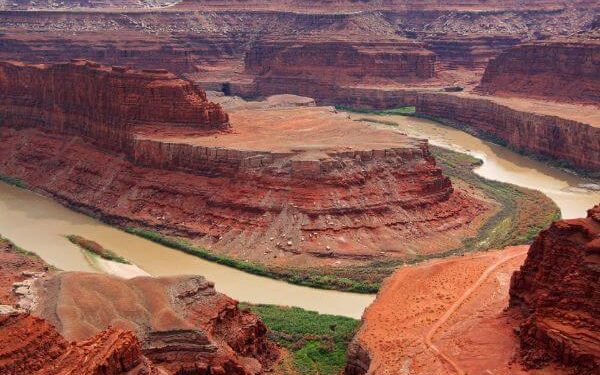 Utah's one of the most spectacular state parks with the most scenic and most photographed views from there to be seen.It is just 32 miles drive from Moab and the best lookouts of any state park in Utah. Ideal place for a picnic by enjoying the stunning views and breathtaking paranormal of Canyonland's pinnacles and buttes. Experience and take good memories with you.
Well, All these places above are super exciting and I am sure, If you decide to visit Utah then You won't miss these places to visit. I hope you all will have a great and amazing experience there and bring lots of memories from there. Start packing!
We hope you liked this article on Top Utah Attractions and Places to Visit . Please continue reading with K4 Feed for more interesting articles. Follow us on Facebook for daily interesting feeds.
Must Read: