Choose the Right Camera
Free
The latest smartphones have amazing cameras. Smartphones have good enough quality to use for video. Just find an elevated place to position the camera or a tripod (more on this coming up) and start filming.
Small Budget
As an alternative to your smartphone, you can go for CANON POWERSHOT G7 X Mark III Digital Camera. If you want to go for better accuracy of autofocus, we recommend Canon EOS 80D 24.2MP Digital SLR Camera.
How to set your Camera in action?
Free
If you don't have the budget for a tripod, find a shelf to place your camera on to stabilize it. A stack of books might also do the trick.
Here some creative zero cost ideas (jugaad) from aspiring Youtubers!
Small Budget
The BROLAVIYA Iceberg Makers Cell Phone Tablet Stand is designed for smartphones for a small budget.
You can also use Tripods for your camera and with the same tripod, you can set smartphone with the use of a small extension – Camera Stand Clip Bracket Holder.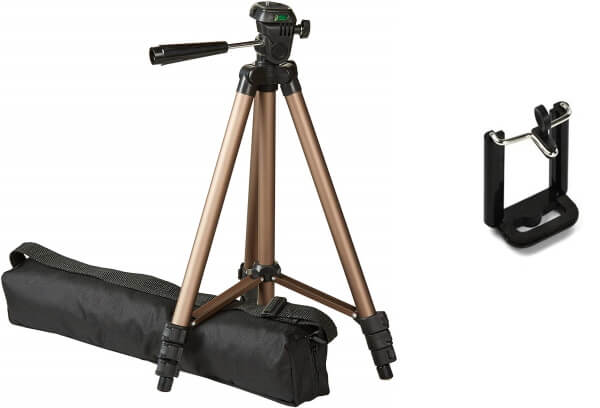 Lighting Conditions
Free
The sun! Yep, natural light is always the best form of light. If possible, try to record in a location with as much natural light as possible. Feel free to use a desk light or any other lamp to add supplemental light. However, keep in mind if the light isn't fluorescent, it will cast an unnatural yellow glow that you want to avoid if possible.
Tip: When you're recording, always face the light source as much as possible, so it casts your whole face in light. If the light is behind you, it will cast you in silhouette.
Small Budget
If you have a small budget, the SHOPEE Led 150 slim Video Light Camera Camcorder  can be a godsend. It can literally take away all of your blemishes!
Quality Microphone
Generally the more expensive the mic, the better the quality. While there are some free options, if you're going to be investing your time in video, we suggest putting some money into a good microphone. Poor sound quality is unforgiving.
Free
If you're using your smartphone to record video, the microphone should provide good audio as long as you stand close to the phone and film in a quiet room with no background noise or wind. Typically the built-in microphones in most desktop computers and laptops don't produce great-quality audio but feel free to test this.
Small Budget
For a modest budget, consider the Boya BYM1 Omnidirectional Lavalier Condenser Microphone. It works great with a smartphone for recording fantastic audio.